Improve sales and customer support with integration of Olark Live Chat.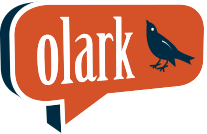 In the Settings dropdown, select Live Chat Settings
Select Olark as your Live Chat provider and copy your Olark code into the box.
Click the "Save Settings" button and your code is automatically installed and enabled on your store. The message that displays in Olark depends on whether or not you already set up an Instant Messenger (IM) account to work with Olark. If you already set up an IM account, you don't need to do anything else! If you didn't already set up an IM account, click the Click here for help message in Olark for more information on what to do.